Hello There Career Rebels:
This morning, Donna was steeping thyme and ginger to make tea (to nurse a nagging sinus infection) when client calls and an email server issue popped up. About an hour later she smelled something burning. She ran downstairs and there it was...wasted thyme. It seemed like the perfect metaphor to kick-off our newsletter. We spoke to a number of clients this past week who are putting their efforts in the wrong places and wasting thyme...er...time. 20% of jobs are landed from applying to advertised positions online. That means 20% of your search efforts should be spent responding to them.
In other news, Donna is working to get her voice back so she can present a workshop on "How to link, tweet, and friend your way to fame and fortune... or just a better job" later this week. She'll be talking to the fellows of The Newman's Own Foundation, a very exciting honor. If you have a group of colleagues or professional associates who would like to hear this talk, let us know.
The world is thawing out and promises of Spring should renew your sense of play. Take your networking outside. Host a party or learn to golf so you can meet some new contacts. If you're local to Fairfield County, CT you could join the Sound Cyclists bicycle club -- full of area professionals. Go to Meetup.com, you'll be amazed by the variety of activity groups you can join. Be a rebel and think outside of the ol' box to get yourself in front of people.
Go forth and be awesome.
-Donna & Tava
---
Be a Job Search Rebel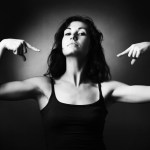 So, you're in the market for a new job, eh? Chances are you have a list going through your mind about the do's and don'ts of how to land that new opportunity. Perhaps it's not a list you're even conscious of but you may be acting in a bubble of what used to work and no longer does, or preventing yourself from making a move that seems taboo. If you're filling out online applications and uploading hundreds of resumes, you're not harnessing your inner rebel – and that's exactly what you need in today's job search.
Your Resume and the Goldilocks Principle
Is your resume full of so much detail it requires actual reading in order to see what you bring to the position? That's too much. On the flipside, is your resume so full of keywords and phrases that it doesn't capture YOU? That's too little. You want a resume that is "just right." Click HERE to read more...
---
Do You Need to Massage Your Message?
Click here to take our Career Readiness survey "Are You Interview Ready?" Receive comprehensive and objective feedback on your interviewing skills for both traditional and behavioral style interviewing methods. Click here to schedule a 15-minute, complimentary, session and find out how we can help!
---
Donna Sweidan and Tava Auslan are your Careerfolk Team. Careerfolk has been offering holistic career coaching since 2005. Our team has broad industry knowledge as well as key advisors in law and finance. Our clients range from aerospace engineers to artists and enterprise sales professionals to environmental advocates. We offer individualized coaching, products for self-paced progress, webinars and motivational speaking.